GRAND LAKE
Oklahoma
>Search Grand Lake Real Estate
>Map of Grand Lake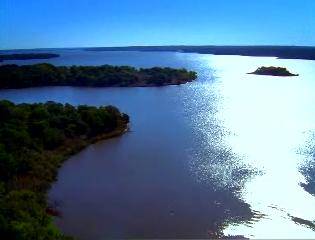 Grand Lake was filled in the fall of 1940 when the Pensacola Dam on the Grand River was completed. Grand lake is located in Ottawa, Delaware, Mayes and Craig counties in Northeast Oklahoma. Grand Lake retains approximately 59,000 surface acres of water at an average surface level of 741 feet above sea level.The shoreline is approximately 1,400 miles long with over 65 miles winding through the green hills of Northeast Oklahoma.
Living on Grand Lake provides you with the enjoyment of outdoor recreation, boating, fishing, sightseeing, a variety of entertainment, history and beautiful waterfront homes.
Grand Lake is a Northeast Oklahoma attraction known for its enchanting natural and diverse facilities and activities that make it a destination as well as a second home location or a retirement community or family relocation. Some people call Grand Lake a vacation: many call it home. Redevelopment of older residential areas and the influx of new developments have created many housing options each with its own unique architecture and offering a variety of options for your selection.